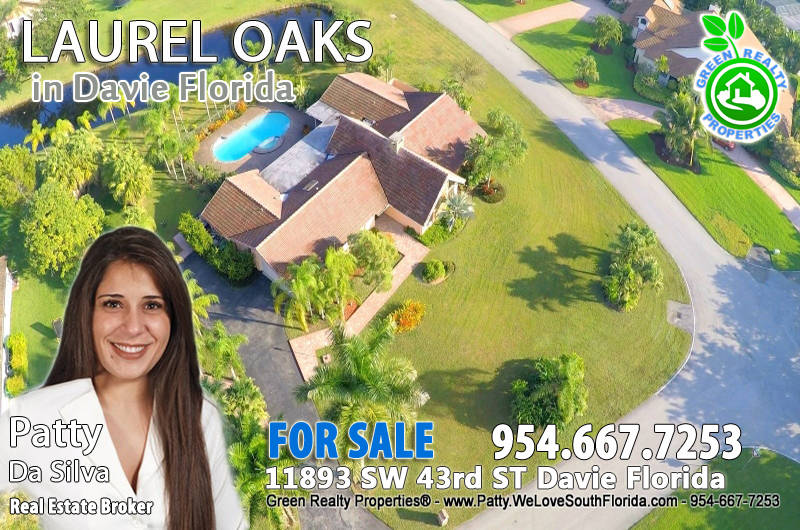 www.LaurelOaksDavie.com :: Green Realty Properties JUST LISTED this Laurel Oaks Davie Home at 11893 SW 43rd St, Davie, Florida 33330 (also Known as: 11893 Acorn Dr, Davie, Florida 33330) – Green Realty Properties – 954-667-72
The Laurel Oaks gated community brings to mind a tranquility unlike any other neighborhood in Davie Florida.
Laurel Oaks offers custom luxury homes with gorgeous designs, huge lots with inside living square footage of 2,600 over 4,900 square feet.
The Laurel Oaks estate homes are valued at $750,000 and beyond. Many Laurel Oaks homes for sale in Davie feature amazing chef kitchens with granite counter tops, stainless steel appliances, grand master suites with balconies that tantalize the senses and crystal blue pools that illuminate the lushes landscaping in the pre-dawn hours.
Florida Homes For Sale in Laurel Oaks, Davie
The luxurious curb appeal is just the tip of the iceberg when it comes to Laurel Oaks homes for sale in Davie Florida.
Laurel Oaks is a true jewel of Davie Florida with its proximity to South Florida's Fort Lauderdale and Miami International Airports and being perfectly positioned just west of the amazing nightlife that Las Olas boulevard has to offer. Living in Laurel Oaks is truly the best of both worlds with a home that brings tranquility and peaceful surroundings but close enough to enjoy all South Florida's night life has to offer.
Laurel Oaks in Davie Florida is the perfect place to raise a family.  Davie's Laurel Oaks is surrounded by wonderful schools which include Temple Beth Emet, Griffin Elementary School, St. Bonaventure Catholic School, The Master's Academy and St Mark Catholic School.
Contact Patty Da Silva Broker-Realtor of the award winning team at Green Realty Properties at 954-667-7253. Our dedicated team of real estate professionals are ready to assist our Laurel Oaks Home owners by providing the most outstanding award winning service possible.
See All Laurel Oaks Davie Florida PHOTOS HERE —> www.LaurelOaksDavie.com
SEE ALL DAVIE LUXURY HOMES FOR SALE HERE —> http://tinyurl.com/LaurelOaksDavie
Visit Our GReen Realty Properties Website —> www.GreenRealty.net
READ OUR GREEN REALTY PROPERTIES REVIEWS —> www.GreenRealtyReviews.com
Christopher Green – REALTOR, Laurel Oaks Buyer Specialist at 954-667-7253
———
Other Related Green Realty Properties Videos:
…
Original article:
For Sale Laurel Oaks Davie Home ~ 11893 SW 43 St Davie FL 33330 by Patty Da Silva