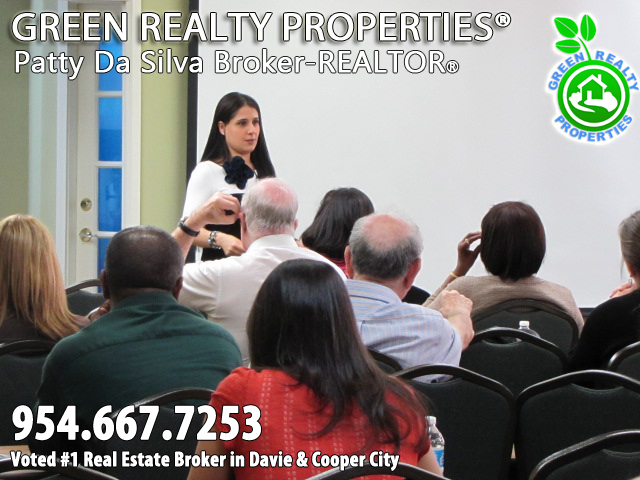 No One Sells Homes More Intelligently

™



Read our reviews from our past clients. In every way we out perform our competition.

When Patty Da Silva Lectures On Selling Homes ~ People Listen.
We strive everyday to be a well oiled listing machine providing superior service to our home sellers. From the moment Patty Da Silva begins her listing presentation to a home seller to the day your home is sold, every single step is planned out like a surgeon performing a critical procedure. Our company never stops improving. We pay extreme attention to detail and market trends. We provide proven strategy that ultimately yields the best and highest price for your home. Green Realty Properties is motivated to raise the bar with each and every one of our real estate transactions. We invest thousands of dollars in selling your home before we get paid at closing which is not the case with our competitors who practice under the veil of a corporate name. Our philosophy is simple, be the best. PERIOD!
When listing your home with Green Realty Properties Listing Broker Patty Da Silva, as our customer reviews will attest to, our clients are blown away or even speechless. Our photos are professionally taken with vibrant colors and staged to perfection (SEE GOOGLE SEARCH OF GREEN REALTY PROPERTIES PHOTOS HERE). Our MLS listing is hand crafted with true meaning, creative detail and with simple showing instructions. Our open houses are legendary with record breaking attendance (100+ buyers) because of our extremely powerful marketing plan that incorporates print media, 1-800 24 hour phone recording (Sample our 24hr phone technology featuring a recent closed sale in Lawson Isles, Davie FL: Dial 1-800-347-1828 Ext. 0340) and our massive internet media coverage (View Lawson Isles in Davie Florida's Custom website: www.LawsonIsles.com)
_____________________________________________________________________________________________
_____________________________________________________________________________________________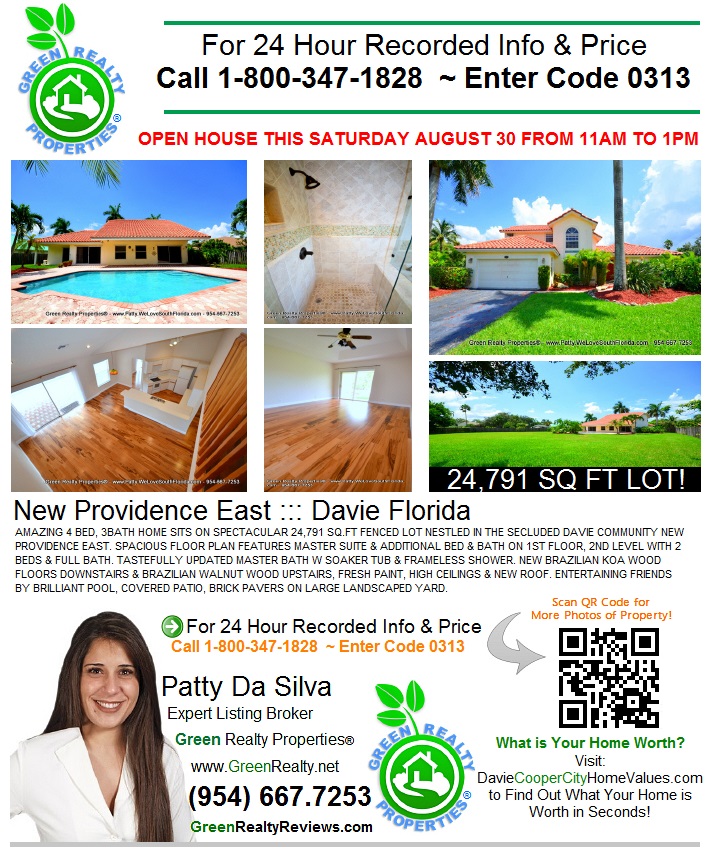 Why list your home and pay a commission to a sloppy no attention to detail, horrible photo taking (photos with the toilet seats up, messy kitchen counters, trash cans and cars in the driveway), lack luster agent who doesn't spend a marketing dime or the required time on your home. Why list your home with an agent that just depends on the MLS system alone to sell your home? Don't list your home with a dinosaur agent who is living in the past.
List your home with a state of the art real estate firm that incorporates cutting edge technology with a high touch approach. YES, we still send handwritten cards to our clients, we just strive to live in the present day which equates to attracting more buyers and insuring the highest price possible for your home!
Green Realty Properties proven track record in second to none with expert Listing Broker Patty Da Silva at the forefront. Before listing your home with anyone else, you owe it to yourself to consult with Patty first. Thousands of dollars are on the line. Call Patty at 954-667-7253. It would be an honor to serve you.
___________________
Best Seller Tips: Before listing your home with a real estate agent, ask for examples of past listings including all marketing materials, all photos (some listing agents take only one horrible photo to intentionally stall the showing process to attempt to double side the sale of your home), website links showing marketing, video links, a few MLS sheets of closed sales (which are only seen by real estate agents that should be very detailed and have very simple showing instructions (some listing agents intentionally create confusing showing instructions in an unethical attempt to double side the transaction. BEWARE).
Make sure before listing with an agent you call their phone number a couple of times, once during the week and once on a weekend to see if they ever answer their phone or call you back timely (buyers of your home must be attended to immediately. That is why you are paying commission to a listing broker – No excuse. The phone must be answered.
___________________
**During your listing consultation, ask the listing broker what constitutes an acceptable offer? What the differences are between Pre-qualification  and Pre-approval letters. What must be present on a pre-approval letter. What a DU finding is and why it is important. Ask the listing agent how they earn their commission before the home is listed and after the home is listed and offers start coming in.

–
 Ready to Sell Your Home? Call Patty at 954-667-7253
–