Tag Archives:
Homes For Sale in Plantation Florida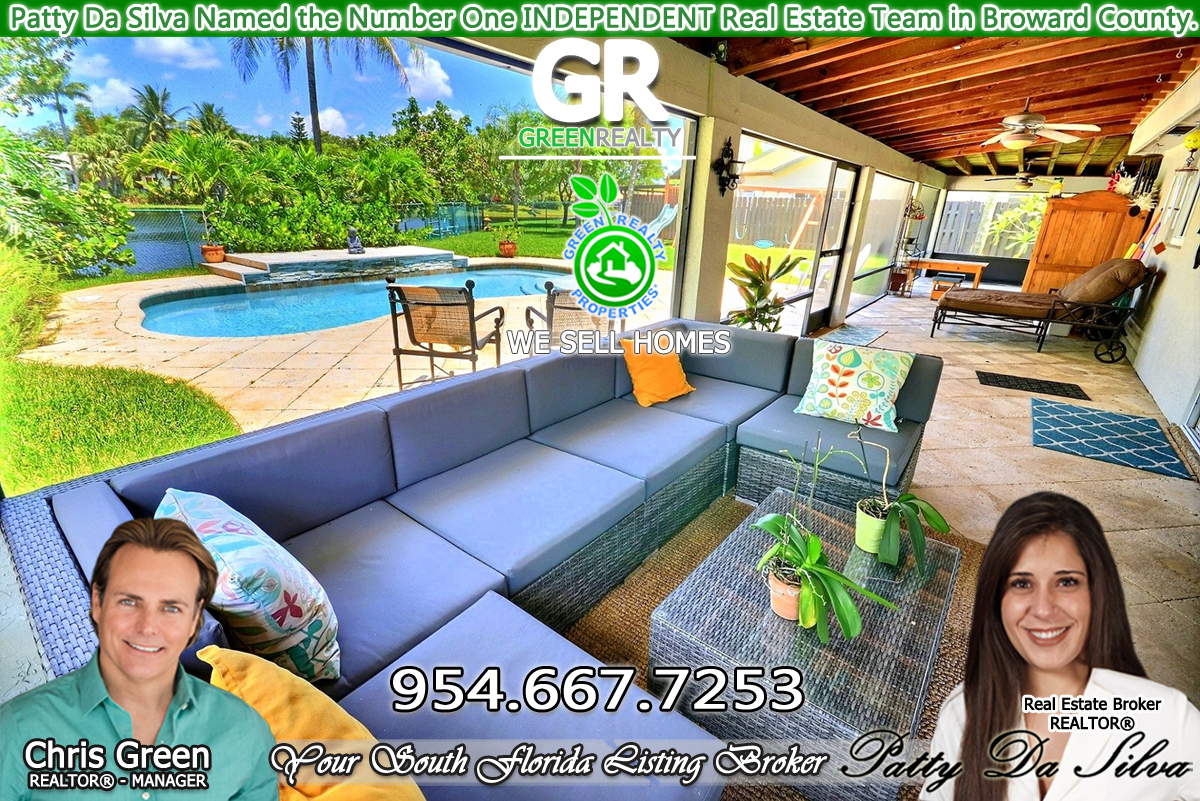 Patty Da Silva Broker named the number one independent real estate team in Broward County by REAL Trends, Zillow and Trulia.  Patty Da Silva Broker is ranked as the number one independent real estate team in Plantation Florida. Call Patty Da Silva today to SELL or BUY a home.
Patty Da Silva SELLS Homes, Plantation Real Estate, Plantation Realtors | Patty Da Silva Sells Plantation Homes. Call Green Realty Properties to SELL or BUY a Broward County Plantation FL Home at 954-667-7253
BEWARE!
Before hiring your REALTOR®, ask if their team gives any financial incentive for their 5 star reviews. BIG Red Flag! Because the Patty Da Silva Green Realty Properties® team receives their reviews by earning them.
SEE OUR ZILLOW REVIEWS HERE —> https://www.zillow.com/profile/PattyDaSilva/#reviews
Visit: www.GreenRealty.net and www.BrowardCountyRealty.com
 www.GreenRealty.net/Top_Plantation_Realtors.html
www.PattyDaSilva.com/Top_Plantation_Realtors.html
www.ChrisGreenRealtor.com/Top_Plantation_Realtors.html
www.greenrealtyproperties.com/photo/plantation-real-estate-plantation-realtors-patty-da-silva-sells-p?context=latest
–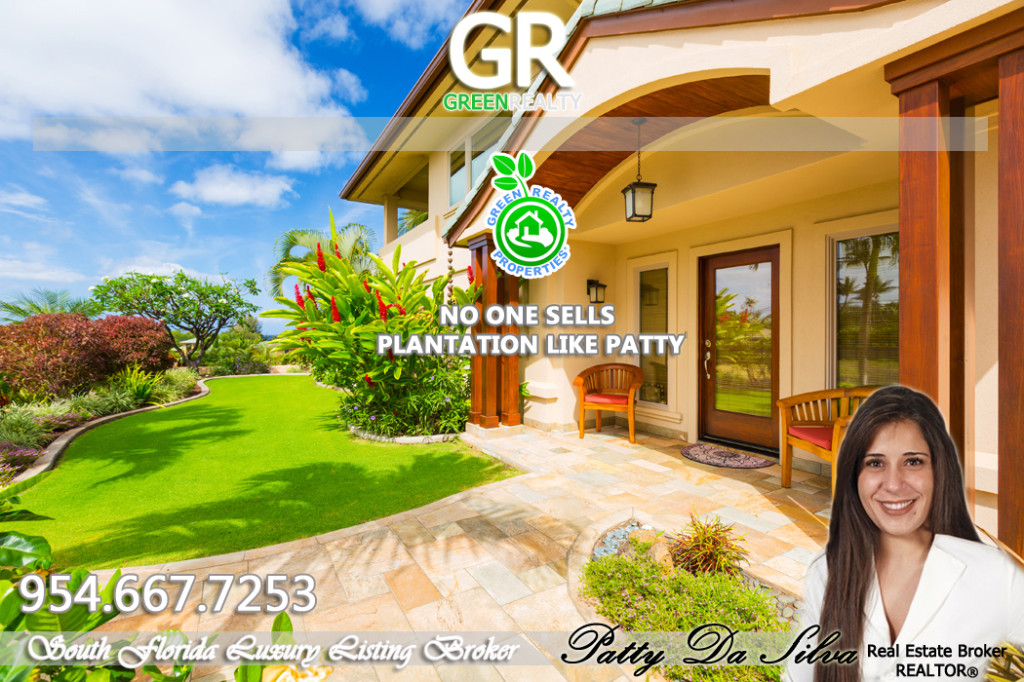 Plantation Florida Homes – The Grass is Greener
Among thousands of beautiful trees and a sea of green grass is where you'll find the city of Plantation. Another unique town in South Florida, Plantation prides itself on the lushness of the landscape and knows its value as a place to live and work. The city motto is, after all, "The Grass is Greener."
Centrally located in Broward County, Fort Lauderdale is 15 minutes away to the east, while Miami is a 40 minute drive once you hop on the Florida Turnpike. Plantation is surrounded by smaller, picturesque towns like Davie, Weston, and Sunrise. Best of all, the beach is only 20 minutes away, making a getaway easier than you might think.
With a population of more than 85,000, Plantation prides itself on finding the right balance of the urban lifestyle mixed with a hometown feel.
Work and Play
Plantation is a thriving community with businesses, both small and large, calling it home. American Express, Motorola, and Kaplan University all have locations in the city. DHL, Goodwin Biotechnology, and American InterContinental University are all headquartered in Plantation. Many people can work right in town, with no need for a long commute, thanks to the thriving businesses located throughout Plantation.
When you're done working for the day or week, there is plenty to do in the city. Golfing, parks, and shopping are plentiful. The biggest golf course is the Plantation Preserve Golf Course and Club, site of the infamous Caddyshack pool scene. Other courses available to test your skill are Fort Lauderdale Country Club, Jacaranda Golf Club, and Lago Mar Country Club. Shopping abounds in Plantation with the Westfield Broward Mall, The Fountains Shoppes of Distinction, and the East Sawgrass Shopping District, plus many small plazas with unique boutiques and shops.
Live and Learn
Plantation is home to excellent schools – public, charter, and private. Among the top-rated schools in the city are Imagine School South Campus, a charter school as well as Central Park Elementary School and Plantation Park Elementary. You can rest easy knowing your children will get an excellent start in life when you live here.
Plantation is a diverse city with plenty of residential options to choose from. Condos, townhouses, and single family homes are available across the city. Just a few of the desirable Plantation neighborhoods include Jacaranda Lakes, Central Park, the Lakes of Newport, Bridgewater, and Royal Palm South.
When you move to Plantation Florida in Broward County, you'll be moving to a city with a wealth of opportunities for you and your family to work, play, live, and grow. No One Sells Plantation Like Patty!
Green Realty Properties wants to help you find your perfect Plantation Florida home in Broward County. When you're ready to SELL your Plantation home or just starting to look for a Plantation home for sale, give Plantation Listing Broker Patty Da Silva a call to SELL your Broward County Plantation Florida Home and Chris Green REALTOR – Plantation buyer specialist to help purchase your dream Plantation Florida home! Call us at 954-667-7253.
If you are wondering, "How much is my Plantation Florida home worth?" CLICK HERE to obtain a home valuation in seconds!
Also visit our website at: www.GreenRealty.net, www.PattyDaSilva.com and read our reviews at www.GreenRealtyReviews.com
—
See Plantation Florida Home Video: HERE
—