Tag Archives:
rock creek realtors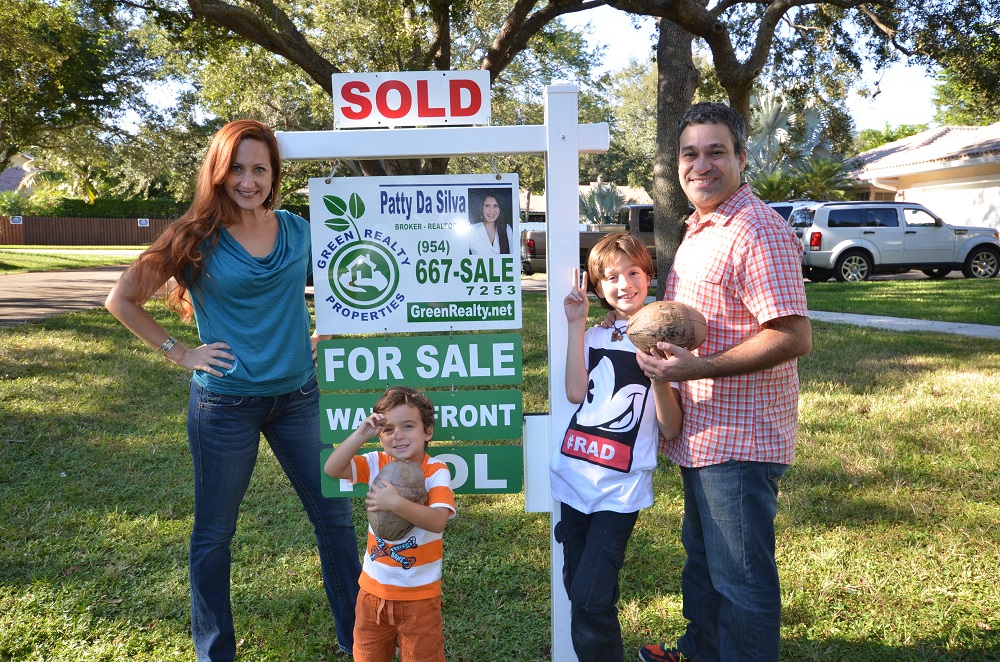 No One Sells Homes More Intelligently™
CALL Patty Da Silva to SELL your home at: 954-667-7253
Call Chris Green REALTOR Buyer Specialist to BUY a Home at 954-667-7253
-
View Davie Homes For Sale, Cooper City Homes For Sale, and Plantation Florida Homes For Sale:
HERE—> http://tinyurl.com/lwoq2qn
-
COOPER CITY, FL., Oct 17, 2014 /Green Realty News Wire/ — Green Realty Properties today announced the sale of 3511 Bark Way, Cooper City Florida 33026 at 11:45am. Patty Da Silva orchestrated an amazing open house that brought over 100 visitors and a full price offer in just 2 hours. Christoper Green of Green Realty Properties brought the buyer. The Listing Price was $409,000 and sold for $409,000. After the closing the seller, Jennifer Lisabeth-Deso said,"Hi Patty & Chris….thank you so much for all of your hard work and expertise in selling our home. It has been an adventure and you came through and sold our house in 2 hours. You lifted a heavy burden off my shoulders and I can now move forward with our new home and new memories!! You are a great team and we hope to keep in touch! Thank you! Xoxo".
The new home owners, were equally excited and can't wait to begin their new lives in Cooper City's amazing Rock Creek!
Looking to SELL your Rock Creek home?
Call Patty at: 954-667-7253
Visit http://www.GreenRealty.net
For Reviews Visit – http://www.GreenRealtyReviews.com
-
 Ready to Sell Your Home? Call Patty at 954-667-7253
…
See original article here -
SOLD ~ Pool & Lakefront Home in Rock Creek Cooper City by Patty Da Silva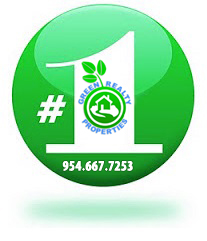 Most of you only read the first few sentences of a review…so I'll get right to the point. If you're looking to sell your home, Patty and Chris are absolutely amazing! Put it to you this way. They know today's market! They know how to market! They know the power of social media!. My house went for over asking. I had 15+ offers in a matter of days and was under contract in by the end of the first weekend showing.
On to the details. I bought my Cooper City house in 2008 as a foreclosure, so I bought it right. A new career opportunity is on the horizon which will force me to move to out of state in the near future. So I decided to hit Google and search around for local west Broward Realtors to see what kind of reviews I could find on social media. Green Realty kept popping up. Gave them a call and Chris scheduled an appointment.
Chris and Patty showed up and walked through my house. We sat down and they began to tell me how the market was in Broward. I was kind of shocked to hear how the market has changed in favor of the seller. Patty went into some of the details on how they market a property. I won't give away their tactics, but with the power of marketing and social media they told me I'd be surprised with the amount of showings we'd have on the first weekend.  I'm a pure optimist at heart so I was very optimistic about the number of showings we'd have in the first weekend.
My house was listed on the MLS, Green's website, and other social media outlets (blogs, YouTube, etc) on a Wednesday evening in late March for a by appointment only showing that Saturday or Sunday. Throughout Thursday and Friday I was getting automated emails every time a Realtor scheduled a showing for Saturday or Sunday. Let's say I had to re-charge my phone mid day on Thursday and Friday because my email was overloaded with showings. My house is nothing special. 3BR 2 1/2BA 2 story 1,750 SF home in Rock Creek. 140+ showings for Saturday with 80+ on Sunday. Insane! I emailed Patty and Chris asking if this was some kind of error. They said "No, we expect that many or more to turn out".
On the Saturday of the showing I decided to drive by my house mid afternoon to see the turn out. You couldn't even get down my street. Counted 10 cars plus 10+ people outside of the house. Patty presented me with multiple offers Saturday night (7 good offers: 3 cash, 4 conventional mortgages), almost all over asking price. Before making any decision I went on with the showing on Sunday. Sunday evening Patty and Chris called to inform me of more offers and a substantially over asking price cash offer with basically no contingencies. I accepted the offer Monday morning and my house was under contract. I closed 30 days later. Couldn't have been easier!
Patty and Chris really know today's market. And when it comes to selling they truly know how to get the most for your house in today's market along with the easiest transaction possible….think Cash buyers no contingencies.
On a side note…The power of impressive marketing goes a long way. Chris is a master at shooting a house for media, MLS pictures, and YouTube. He must have snapped a 100+ pictures of my house. Over the years I sort of forgot how beautiful my house was. When I saw the pictures and YouTube video that Chris did, I was taken back. The pictures were breathtaking! Patty and Chris kept emphasizing how important media is. How any can snap 10 pictures and list a house. It's the Realtors that go the extra mile and snap impressive pictures, develop a gorgeous marketing package, and harness the power of social media that get the properties sold for top dollar!
Patty and Chris! You couldn't have made this process any easier or more fun. Being a technology professional I easily understood the power of Social Media, but boy did you all surprise me with the results. After my brief stay out of state for my new career training, I'll be hitting up Green Realty Properties when I return looking for my next property to buy.
Cooper City – Rock Creek – The Park Seller, Eric Barbaglia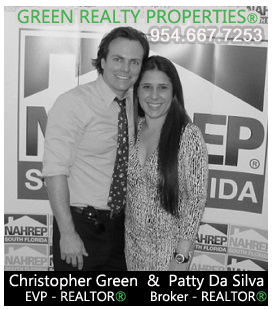 Green Realty Properties
BROKER – REALTOR®
Patty Da Silva, GRI, GREEN, RESS®,
AHWD®, e-PRO®, CFS, CDPE, TRC
2013 & 2014 Governor for the Broward Council of the Miami Association REALTORS®
2014 Florida REALTORS® State Director
Certified Distressed Property Expert©
National Association of REALTORS®
Florida Association of REALTORS®
MIAMI Association of REALTORS®
South Broward Board of REALTORS®
Contact us: 954-667-7253
Green Realty Properties
REALTOR® – CDPE, TRC
Christopher Green – Executive Vice President
BA from University of Georgia
Certified Distressed Property Expert®, CDPE®,
Professional Standards Committee Member/Chairman at MIAMI Association of REALTORS®
2014 Florida REALTORS® State Director
National Association of REALTORS®
Florida Association of REALTORS®
MIAMI Association of REALTORS®
Contact us: 954-667-7253
________________________________________________________________________________________________________________________